Mine Flameproof Intrinsically Safe Stabilized Power Supply
■ Overview
Mine flameproof and intrinsically safe DC stabilized power supply (hereinafter referred to as stabilized power supply) mainly provides intrinsically safe DC stabilized power supply for mine intrinsically safe equipment. It is used in dangerous places with gas or coal dust explosions in coal mines.
Product implementation standards: GB3836-2010, MT / T408-1995, Q / 0100HY001-2018.
The power supply adopts advanced switching power supply technology, which has the characteristics of wide input voltage range, high efficiency, stable output, and small ripple. The intrinsically safe control circuit uses an op amp and MOS tube circuit, which has fast response time, small internal resistance, and heat generation The characteristics of small size, small size, and strong output capability remove the bulky heat sink in the original power supply, and take a solid step on the road of miniaturization of the power supply, breaking the backward situation of the coal industry in the power supply field A blank of the application of switching power supply technology in coal mine underground power supply.
The power supply has 6 channels of 18V1.1A and 2 channels of 12V1.9A intrinsically safe power output. The outputs of each Intrinsically Safe Power Supply are isolated from each other. Each power supply has corresponding normal working instructions and fault indications, on the premise of ensuring output capacity The following provides a reliable guarantee for coal mine safety.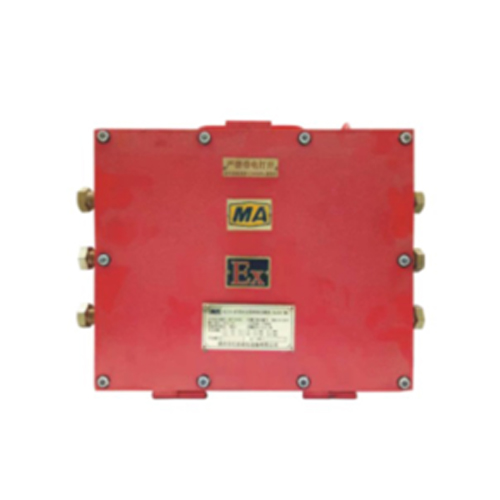 ■ Working principle
After the AC power enters the inside of the regulated power supply, the eight-way miniaturized switching power supply converts the AC power to the corresponding DC 12V and 18V, and the output is intrinsically safe through the two-stage overvoltage and overcurrent protection circuit composed of the op amp and MOS power supply. The circuit has a wide input voltage range and can work normally under AC (70-260) V conditions. The overvoltage and overcurrent protection speed reaches nanosecond level, which is in a leading position in the industry.

■ Environmental conditions
1. The power supply should work normally under the following environmental conditions:
a) Ambient temperature: -5 ℃ ~ + 40 ℃;
b) Average relative humidity: ≤95 ﹪ (+ 25 ℃);
c) Atmospheric pressure: 80kPa ~ 106kPa;
d) Place of use: use in coal mines with explosive gas mixtures such as methane, coal dust, etc. without significant vibration and shock
2. The worst storage and transportation conditions that the power supply can withstand:
a) High temperature: + 60 ℃;
b) Low temperature: -40 ℃;
c) Average relative humidity: ≤95 ﹪ (+ 25 ℃);
d) Vibration: frequency: 10 ~ 150Hz, acceleration 50m / s2;
e) Shock: peak acceleration 500m / s2;
f) Pulse: 11ms.

■ Main performance index
4.1 Power input: 127VAC allows a voltage fluctuation range of 60% to 200%.
4.2 Overall power: ≤150W.
4.3 Intrinsically safe parameters
U01: 18.8V I01: 1.1A CO: 8.2μF LO: 0.1mH;
U02: 12.8V I02: 1.9A CO: 27μF LO: 0.2mH.
4.4 Maximum short-circuit current
The maximum short-circuit current of 12V and 18V intrinsically safe output is less than 20mA.

■ Dimensions and weight
Dimensions: overall dimensions (length) × (width) × (height);
396mm × 321mm × 102mm.
Weight: about 20kg.
■Our Company
Jinzhou Jinshi Mining Equipment Technology Co., Ltd. is located in the beautiful coastal city of Jinzhou, specializing in mining communication products and coal Mine automation equipment design and development, production and sales, contract installation related to coal mine safety production monitoring and monitoring system, solutions, after-sales service, etc.

The company has a high-level research and development team, cooperates with many domestic and foreign scientific research institutions, adhering to the "excellence, service-oriented" business policy, adhere to the market-oriented and meet user needs as the development goal, and make every effort to intelligentize our country Mine development and construction services. A series of high-precision automation technology solutions are applied to the mines to escort the safe production of coal mines. Products can also be used in other explosion-proof and non-explosion-proof automation fields, such as chemical, dust, petroleum, heat, security and so on.
Looking for ideal
Mine Flameproof Power Supply
Manufacturer & supplier ? We have a wide selection at great prices to help you get creative. All the Mine Intrinsically Safe Power Supply are quality guaranteed. We are China Origin Factory of DC Stabilized Power Supply for Mine. If you have any question, please feel free to contact us.