Pump Automation Online Monitoring Unattended
■ System Overview
This system uses the KXH18 intrinsically safe Programmable Controller independently developed by our company as the core component, the operation mode, and the optimized "distributed system" as the overall design basis to ensure that the core of the field in the event of network or host computer failure or abnormal conditions The controller can be turned into a fully automatic working mode. This controller integrates all functions of programmable controller I / 0 interface, host computer and ring network switch. It has high integration, powerful functions and stable and reliable operation. Compared with the current domestic and foreign industrial control systems, it has simple installation and commissioning, small wiring, small maintenance, easy expansion, easy upgrade and expansion, and high transmission rate can be used for other digital equipment (such as video systems, other industrial control systems, voice Dispatching system, etc.) constitute the overall industrial automation platform.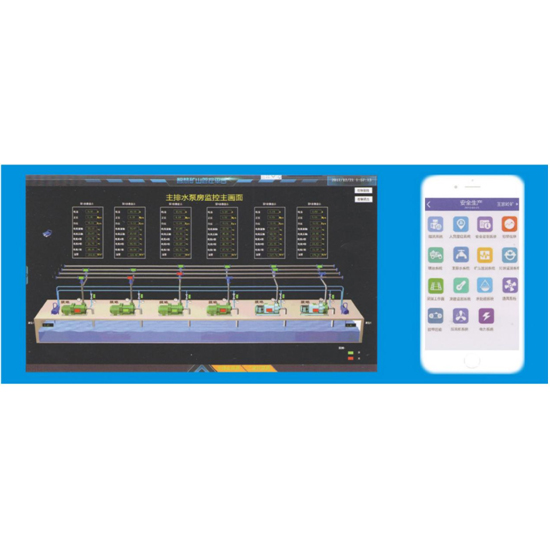 ● The integrated control box integrates the single-pump control logic, which can independently control the start and stop of a pump, and has an LCD screen to display important parameters;
● Single pump control box contains gate valve power distribution and protection, which can reduce the overall system cost;
● Standardized design and construction, fast installation, convenient debugging and maintenance;
● A variety of control modes are available, including four unattended, remote control, local auto, and local maintenance modes;
● Complete detection functions, which can detect a series of parameters such as water level, water pressure, pump temperature, current, running time, and equipment status in real time;
● With a variety of protection and voice alarm functions, when a pump failure, pump overheating, pressure drop, low current, etc. occurs, the system will automatically stop running and issue a voice alarm;
● You can use animation, graphics, Chinese characters, etc. to directly display the running status of the pump, system operating parameters, equipment failure status, etc .;
● With query function of alarm record, operation record, operation record, power record, historical data, historical curve, etc .;
● It can automatically monitor the water level, pump parameters and other parameters of the water tank, and intuitively, visually, and accurately reflect the system's working status and water tank water level, motor working current, motor temperature through graphics, images, curves, data, text and other methods , Bearing temperature, drainage pipe flow, pump status and other parameters;
● The system is connected through twisted pair or optical cable transmission equipment, which can realize the unmanned pumping station group control operation of multiple pumping stations, greatly reducing the operating costs of mine pumping stations, more effectively improving the pumping station equipment intact rate and availability guarantee rate, ensuring water pump The control system works reliably.
■ System characteristics
● Control the start and stop of pumps based on key parameters such as time and water level;
● With key parameter protection to prevent dangerous situations;
● Multiple pumps can run alternately to avoid the same equipment running continuously for a long time;
● The system can set peak and valley operation according to the actual power consumption, saving electricity costs;
● Analyze the efficiency of the recent pump operation to improve the efficiency of equipment use;
● Multi-stage drainage pump room can combine drainage, reducing management costs.
■Our Company
Jinzhou Jinshi Mining Equipment Technology Co., Ltd. is located in the beautiful coastal city of Jinzhou, specializing in mining communication products and coal Mine automation equipment design and development, production and sales, contract installation related to coal mine safety production monitoring and monitoring system, solutions, after-sales service, etc.

The company has a high-level research and development team, cooperates with many domestic and foreign scientific research institutions, adhering to the "excellence, service-oriented" business policy, adhere to the market-oriented and meet user needs as the development goal, and make every effort to intelligentize our country Mine development and construction services. A series of high-precision automation technology solutions are applied to the mines to escort the safe production of coal mines. Products can also be used in other explosion-proof and non-explosion-proof automation fields, such as chemical, dust, petroleum, heat, security and so on.
Looking for ideal Pump Automation Monitoring Manufacturer & supplier ? We have a wide selection at great prices to help you get creative. All the Water Pump Automation Online are quality guaranteed. We are China Origin Factory of Online Monitoring Unattended. If you have any question, please feel free to contact us.