Coal Mine Rail Transportation Management System
■ Product Overview
"Coal mine rail transportation management system (locomotive transportation information, collection, closed system)" belongs to the perception layer of the mining Internet of Things. It is a combination of modern network, data communication, GIS geographic information, computer, multimedia and other technologies to form a network. Integrated data platform and management platform integrating data communication, GIS information, and other functions, to realize vehicle tracking and positioning, traffic signal linkage control, rear-end alarm and other functions, to provide real-time scheduling and intelligent support for underground transportation, and to provide mine environment, personnel, Equipment and other safety monitoring provides extended applications, forms an integrated comprehensive monitoring and monitoring platform, and realizes mine disaster early warning and emergency rescue.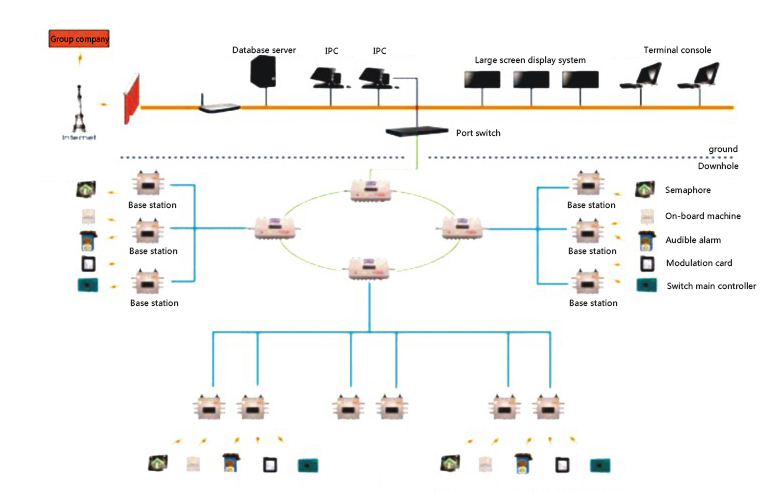 ■ Main functions of the system
Positioning function
(1) Positioning and tracking: Positioning and tracking the real-time position, running trajectory, and distribution of mobile vehicles underground, and record their stay time in various areas and monitoring points;
(2) Positioning display: The positioning information of underground vehicles can be displayed in real time on the computer terminal or LED display device in the form of electronic maps, man, forms, etc.
2. Monitoring function
(1) Safety monitoring and monitoring: Automatically switch and linkage control the signal lights at the intersections of all lanes; safety monitoring of moving objects of underground vehicles;
(2) Emergency handling: When an emergency occurs in the mine, the system can provide the distribution information of vehicles and drivers in various areas, and the system can provide the latest historical distribution information of vehicles and personnel in various areas under the mine to assist commanders in formulating rescue plans.
3. Blocking function
It has the function of blocking and automatic unlocking between the route and the route; the computer can send a signal to lock the turnout. After the turnout is locked, the local, remote and driver controls are disabled until the computer is unlocked; the train occupation zone is blocked To ensure that other vehicles must not enter the occupied area; the signal indicator area is locked to ensure that the signal is consistent with the actual operation of the locomotive, and no wrong signal is issued; the system has the function of "fault-oriented safety" and the "trust, collection, and closure" required for mine transportation Other blocking functions.
4. Scheduling function
Dispatchers can monitor and control the host to organize and allocate vehicle transportation tasks according to the location of underground vehicles and traffic conditions. They can also control signal indicators according to the needs of emergency dispatch.
5. Video surveillance function
Install fixed cameras at major locations such as bends, single lanes, forks, etc., upload signals to the control room through the network port in the base station, and the dispatcher monitors the scene situation in real time through the screen. Video surveillance can process multiple video images simultaneously without signal jamming.
4. Alarm function
(1) Abnormal driving alarm: the system can automatically diagnose the abnormal situation of the vehicle running through the red light, and give alarm prompts in the Sound And Light Alarm mode through the monitoring terminal of the ground dispatch center;
(2) Fault diagnosis alarm: When the system and equipment fails, the monitoring terminal of the ground dispatch center can issue an audible alarm and display the type and location of the failure so that maintenance personnel can take emergency measures;
(3) Rear-end alarm function: When the locomotive is too close, the on-board machine issues a voice alarm to remind the driver to pay attention to driving safety and avoid accidents.
7. Query function
(1) Comprehensive information query: The system can query the information of underground vehicles, wagons, equipment and system operation; it can also query vehicle information based on management needs, by department, shift, personnel, etc.
(2) Real-time information query: You can query the real-time information of all vehicles in this range by pressing the monitoring path on the electronic map;
(3) Historical information query: The vehicle's historical travel trajectory (path failure, number of times, etc.) can be queried by time period, and can be visually reproduced through electronic maps, or displayed in text, reports, and other forms.
8. Management functions
(1) System management functions: user management, equipment management, network management, etc .;
(2) GIS management: electronic map management, editing and other operational functions maintenance;
(3) Monitoring management: monitoring rule management, alarm rule management, linkage control management, etc .;
(4) Information management: statistics, analysis, display, query, report, printing, etc.
■Our Company
Jinzhou Jinshi Mining Equipment Technology Co., Ltd. is located in the beautiful coastal city of Jinzhou, specializing in mining communication products and coal Mine automation equipment design and development, production and sales, contract installation related to coal mine safety production monitoring and monitoring system, solutions, after-sales service, etc.
The company has a high-level research and development team, cooperates with many domestic and foreign scientific research institutions, adhering to the "excellence, service-oriented" business policy, adhere to the market-oriented and meet user needs as the development goal, and make every effort to intelligentize our country Mine development and construction services. A series of high-precision automation technology solutions are applied to the mines to escort the safe production of coal mines. Products can also be used in other explosion-proof and non-explosion-proof automation fields, such as chemical, dust, petroleum, heat, security and so on.
Looking for ideal Mine Rail Transportation Manufacturer & supplier ? We have a wide selection at great prices to help you get creative. All the Coal Transportation Management are quality guaranteed. We are China Origin Factory of
Mine Management System
. If you have any question, please feel free to contact us.