Intelligent- electric Control Aerial Passenger Ropeway
■ System Overview
Mine overhead passenger electric control device is a kind of automatic control equipment suitable for single or remote control in underground coal mines.
Has strong applicability, scalability and high reliability. Its logic control mode can be realized by software programming, making complex control logic simple and easy. Through supporting sensors and voice equipment, it can complete the control of the aerial passenger maneuver. The electric control box has a large control output point capacity, a large number of reservations, and strong applicability.
■ System function
1. Device start and stop:
1.1 Startup sequence
When the start button is pressed on the operating table, a verbal alarm is given first, and the emergency braking device is opened at the same time. The warning time is up, Start the working solenoid valve and start the motor when a signal that the brake is fully open is detected.
1.2 Stop sequence
After pressing the stop button, the motor is powered off first, and coasts to a stop. After a delay (set value) of 5 seconds, the brake solenoid valve is powered off, and the background music audio signal stops output. During emergency braking, the motor stops immediately, and the working brake and emergency brake are held immediately without delay.
2. System protection:
Pressure protection, temperature protection, overspeed and underspeed protection, offside protection, heavy mound protection, rope drop protection, emergency stop protection along the way, there is a catcher action interface, wire rope online monitoring interface and so on. In the continuous and intermittent operation state, if there is a slight fault, the system stops, and the system is required to run at this time. Press the forced unlock button to turn off all protection systems except emergency stop and restart operation System (in non-protected state. The main control emergency stop and emergency stop along the line are not reset, forced unlocking does not work).
3.Voice alarm information
The control system is equipped with a multi-segment voice board with a total of 16 voice messages. The trigger mode of the language board is: the trigger has language, no trigger does not have language, and the corresponding information is displayed on the display screen.
4. Parameter setting: The relevant parameters in the system can be set according to the site conditions.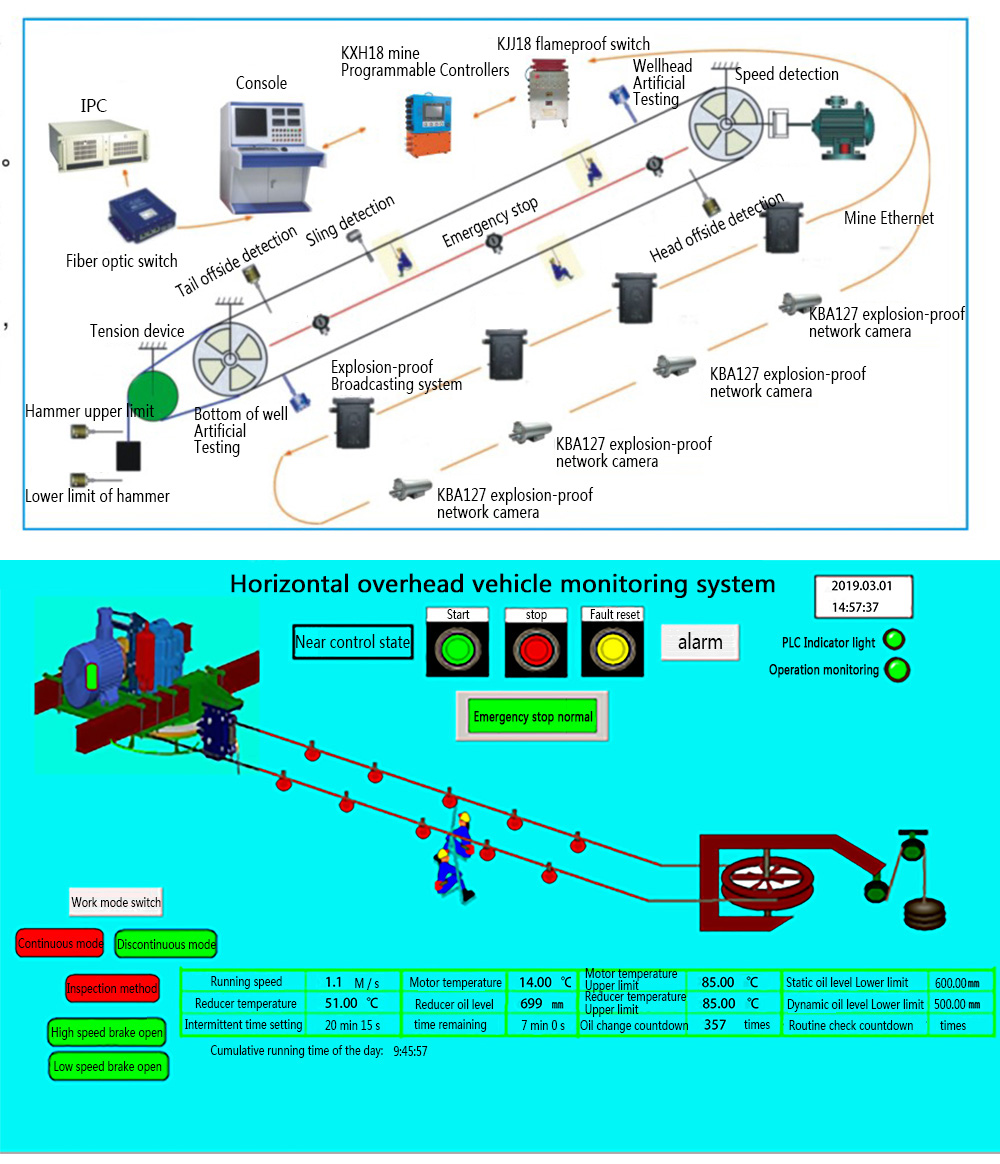 ■ Warning
1. Never open in an explosive atmosphere!
2. This power supply should be repaired according to the manufacturer's requirements. The specifications, models, and electrical parameters of components in the original circuit and associated circuits must not be changed.
3. It is strictly forbidden to use other specifications batteries to connect with this machine.
4. This product must not be connected to equipment without joint inspection!
5. The type, name, specifications and parameters of the intrinsically safe circuit and components related to the intrinsically safe circuit must not be changed during maintenance.
6. Pay attention to prevent "lost explosion" during maintenance (pay attention to protect the flameproof surface; pay attention to the fasteners and the rubber sealing ring introduced into the device).
■Our Company
Jinzhou Jinshi Mining Equipment Technology Co., Ltd. is located in the beautiful coastal city of Jinzhou, specializing in mining communication products and coal Mine automation equipment design and development, production and sales, contract installation related to coal mine safety production monitoring and monitoring system, solutions, after-sales service, etc.

The company has a high-level research and development team, cooperates with many domestic and foreign scientific research institutions, adhering to the "excellence, service-oriented" business policy, adhere to the market-oriented and meet user needs as the development goal, and make every effort to intelligentize our country Mine development and construction services. A series of high-precision automation technology solutions are applied to the mines to escort the safe production of coal mines. Products can also be used in other explosion-proof and non-explosion-proof automation fields, such as chemical, dust, petroleum, heat, security and so on.
Looking for ideal Intelligent Electric Control Manufacturer & supplier ? We have a wide selection at great prices to help you get creative. All the Control Aerial Passenger are quality guaranteed. We are China Origin Factory of
Intelligent Electric Aerial Ropeway
. If you have any question, please feel free to contact us.